As we celebrate the 70th year of our founding, JRCS continues in its daily effort to make further leaps into the diversity and face the challenges of digital business. Our greatest effort is in the training of people to support such challenges. Someone who can accurately grasp the needs of the customer and society and is able to provide the customer with the best solution. Someone who can quickly perceive changes in the times and in business structure while flexibly growing in oneself and who is able to use that power for action and awareness. Training such people is an indispensable investment in continuing to provide products and service of an "impressive quality" for customers. To this end, the company is working together with employees through various training programs, committee activities and self-development sessions to create such people.
In addition to this, to create a workplace where JRCS employees themselves are able to smile is we believe important in order for customers to appreciate the products and service we deliver. For this reason, an environment in which each employee can work safely and securely where flexible working methods can be introduced is being developed.
Fostering World Class Talent
The aim of JRCS is to become a group of talented people who have through world-class education acquired expertise and skills. This is being achieved by a fulfilling training program developing human resources.
The basic policy of Human Resource Development
In response to the changing times and business structure, our aim through human resource training is for people to possess the expertise and have the power to take action using educated flexible ideas.
Our aim is to create a self-propelled organization which is self-thinking, self-deciding, self-activating in providing solutions and having the ability through autonomous human resources to take responsibility for its actions.
The plan includes the education and training on-site of the next generation of leaders of all departments.
Each employee will undergo the development of human resources with full awareness of all parties.
*Self-propelled Organization
A locomotive has a power unit, the vehicles it tows behind run without power. On the other hand, most of the bullet trains have power to all vehicles, enabling high speed running. JRCS does not aim to be an organization where strong leaders like locomotives pull other employees along by themselves but rather an organization where each employee runs along using their own feet like a bullet train speedily and powerfully advancing to the destination, that is problem solving.
Human Resources Development Committee
At the "human resource development committee" which consists of five subcommittees, each subcommittee, its representatives, and the personnel department collaborate to discuss and act on company-wide human resource development. Rather than the company one-sidedly organizing a training program, employees themselves are involved in reviewing the methods of personnel training and personnel systems while imagining "the way they should be".
Human Resources is composed of 5 sub committees
Skills subcommittee
Sales subcommittee
Technical subcommittee
Internal division subcommittee
Youth subcommittee
Training System
There is a stratified system of training comprising of various themes by subject. A number of study groups and mini courses involving visits by instructors from outside companies are made available.
Self-development support system
The JRCS goal of human resource development is "autonomous human resources". For that reason, we support the activities of employees who voluntarily aim for skill improvement, such as language studies, specialized fields, and areas of their own interest. We are also promoting the creation of an environment where learning online without being restricted by the time and place is available.
A System of Career Counseling
Employees are able to receive advice with regard to their future or their current work from career council consultants who hold national qualifications.
Creating an environment where work can be enjoyed safely and energetically
Characteristics of individual employees, such as their interests, suitability, expertise and home environment are different in each case. We are striving to improve the environment by closely matching the characteristics of these individuals with the needs of the company so that employees can work actively demonstrating their full potential to achieve high productivity.
Annual paid leave system
Annual paid leave can be taken by the hour. Several hours can be dispensed and taken effectively.
Part time employment (Child care/Nursing)
If your child has yet to become a Primary School 4th year, or your family require you to help with nursing then a 6-hour working day is possible. Again, if your child has yet to enter Junior High School leave can be arranged. The system also provides child care and nursing allowing staggered working hours.
Regular employee appointment system
Contract employees who have met certain criteria, such as having more than six months in service, are eligible to take the regular employment examination.
Long Service Vacation
On reaching the age of 59 years old, or an employee who has given 10, 20, 30 years of service becomes eligible to take long service vacation for refreshment, in appreciation.
In-house nursery
The in-house nursery (Sea Otter Land) facilitates a maximum of 11 children. Located next to our canteen, parents can have peace of mind while at work.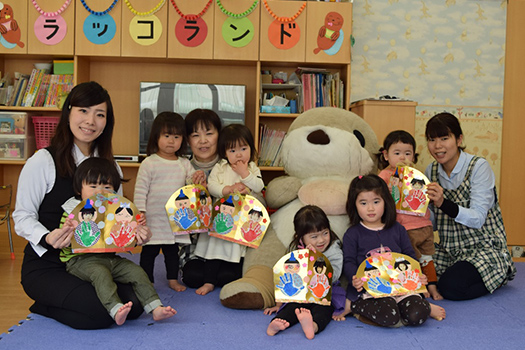 Creating a climate that welcomes free ideas
JRCS aims to create innovation in the marine market, encouraging new ideas that are not bound by the constraints of ordinary sense or stereotypical manufacturing in the marine industry. Cultivating a climate in which diverse ideas from inside and outside of the company can be flexibly incorporated.
An in-house from the "Bottom to the Top" idea system has been introduced
Everyone can easily tweet an idea to a site to give a "little inspiration" and recommend free ideas. For excellent ideas, not only employees who tweeted but also teams which adopted and executed the ideas are honored. A lot of ideas such as "Casual Everyday" and "Secondary Employment" have already been realized based on employee's tweets.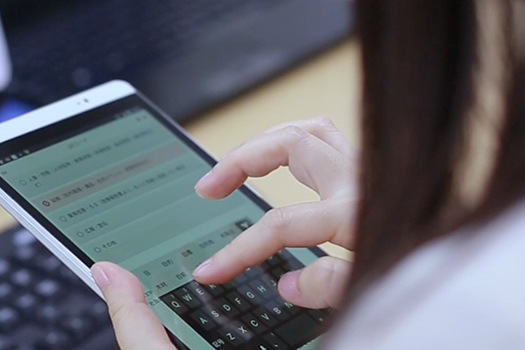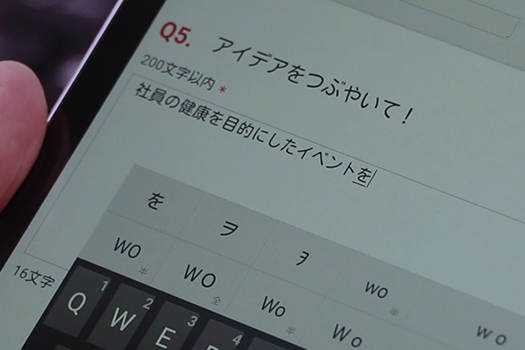 Time waste reduction drive
The whole company reviews the daily movement of employees, equipment and work procedures to thoroughly eliminate the waste of time. There is also an award system for teams and individuals who have made proposals and activities with highly effective improvements.
(Photo: Example in which the electric driver is suspended from the rail, (1) No need for connecting and disconnecting of the power plug, (2) the cord does not get in the way, (3) burden on the shoulder is reduced, etc.)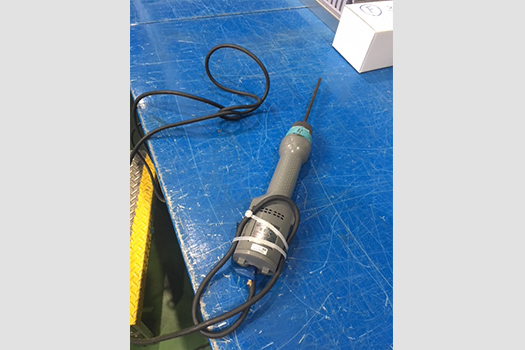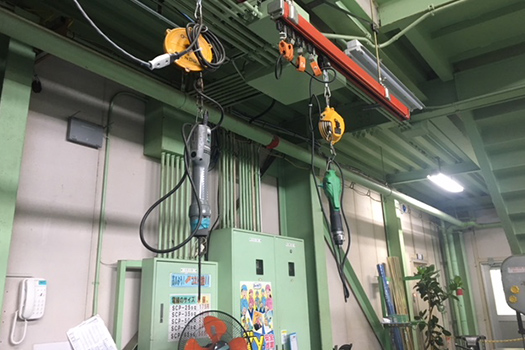 "Secondary Employment" OK!
From the feeling that "I want you to be a person respected as a social worker before being an office worker", "Secondary Work" has been allowed so that the individual's expertise and skills can be used for society. If funds are needed, the company will provide up to 50,000 yen per person as a subsidiary assistance lump sum payment and will encourage employees to rise to the challenge.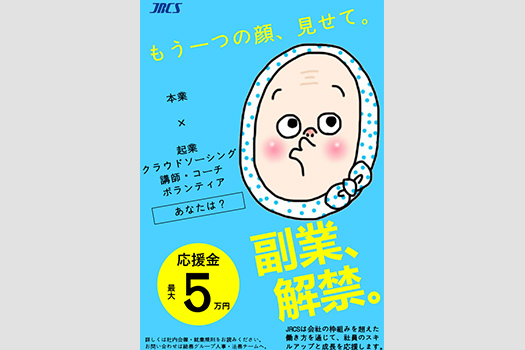 (1)Participation as an interpreter in the 32nd Japan-Korea Youth Interaction Exchanges Project
A Point of View from a Sales Representative
This project is an international exchange program sponsored by the Cabinet Office for the purpose of "demonstrating leadership in various fields of the international community and nurturing young people who contribute to society". The group consisted of a total of 29 people, including one headmaster, two deputy headmen, an interpreter, there are usually two, and 25 youths of 19 to 30 years old. I myself joined this project as a member ten years ago which gave me a broader perspective on things, giving me a chance to decide to learn Korean. Participating in the project this time, made me realize the difficulty of interpreting and we were able to see members of the group grow in a short time by themselves, which in turn became my own challenge. I am grateful to the company and colleagues who supported my challenge to take a vacation for three weeks. I would like to make use of this experience for the future.
(2)A Training Lecturer at other companies
I also serve JRCS as a lecturer for internal training. Taking advantage of my original expertise in cross-cultural communication and my own overseas experience, I am a lecturer on other overseas assignments and training on cross-cultural adaptation. Sometimes I lecture in English. I am nervous to conduct training to people who I am meeting for the first time and who are going to be subject to my evaluation. However, this sense of tension and strict evaluation leads to my skill improvement, and it is also useful for teaching lecturers within JRCS.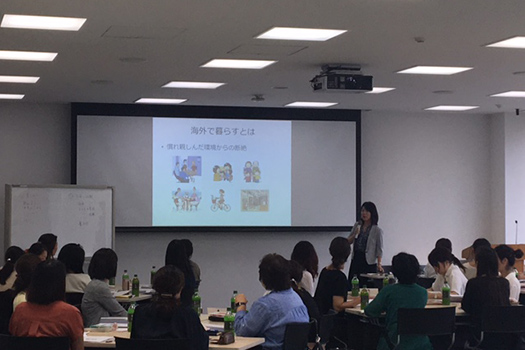 Casual Everyday
Employees are working dressed in clothes of their own choice. As this is a specific wish of the President in order to liberate their personality and free their ability for diverse thinking, dress codes are at a minimum. This was considered an unusual initiative in the prefecture and was picked up by a newspaper.
Health and Safety sub-committee
Regarding safety and hygiene in the workplace, we believe that it is important not only to obey instructions from the company but also to discover problems from the field perspective, to pose and practice ideas as self-governing. Therefore, within the Health and Safety Committee, we have created subcommittees with priority themes such as "high incident work", "high altitude work", "dangerous experience", "hygiene activity", and conduct research and measures on a voluntary basis. The content of the activity is posted on the "Employee Dedicated Site" and shared throughout the company. Not only regular employees but also contract employees and staff at part-time jobs are participating with a shared feeling of "I want to improve the work environment".
Awards received
■2008 Blue-chip companies Parent Support Award
■Yamaguchi Gender Equality Promotion Business Certification Registration
■2008 "300 of Japan's Vibrant Manufacturing Small & Medium Enterprises" award
■2016 Recognized as a "Company Supporting Future Generations"
■2017 Promoting the success of women in business Yamaguchi registration certification