An introduction to our quality management practices and policies.
Manufacturing Process
The drive to achieve customer satisfaction forms the very core of our corporate philosophy. Its influence can be found in all of our customer interactions, which span from the initial design consultation all the way through to post-delivery maintenance.
Every product is designed and produced to meet the individual needs of each vessel. Thorough enforcement of quality standards at each stage of the production process ensures superior and reliable performance of the final product in the field.
ISO 9001
Our quality assurance policy and quality management system have received International Organization for Standardization (ISO) 9001 certification, the gold standard of quality management. We did not rely on any outside consultants when applying for ISO 9001, instead trusting our own staff to do all of the necessary research and preparation. This preparatory work was an excellent chance for the entire company (including the design, production, maintenance, and other teams) to evaluate its quality management policies from top to bottom.
Although we have achieved our goal of ISO 9001 certification, we are not content to simply maintain our quality assurance policy and quality management system. Rather, we work to ensure that they continue to best serve the customer's needs.
Inspection
JRCS products are subject to a wide range of inspections, including various environmental tests based on International Electrotechnical Commission (IEC) standards. During the Factory Acceptance Test (FAT), simulation and inspection equipment are used to verify that the product works exactly as designed in all tested situations.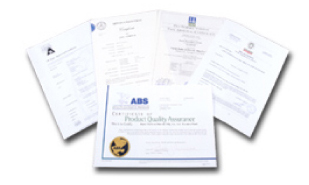 Spare parts
JRCS keeps an extensive stock of spare parts available for easy access both inside and outside of Japan. Our maintenance management and implementation policy is tailored to each vessel, and can sometimes last for more than 20 years.