Co-sponsoring the AFRICA DREAM SOCCER TOUR, providing football training opportunities for African children
JRCS has a sponsorship agreement with SOLTILO CO., LTD. and has co-sponsored the 2019 AFRICA DREAM SOCCER TOUR. Produced by professional soccer player Atsushi Honda, SOLTILO Co., Ltd. is developing soccer schools in Japan and overseas.
This project is providing Japanese coaches and giving them a free opportunity to train their children in East African countries such as Kenya and Uganda, which are said to be underdeveloped in soccer. During the tour this year, 2019, a total of 1,200 children are planning to be taught.
Children who are found to have talent and motivation will be able to receive ongoing training at schools in each country. In addition, the concept of this tour is to conduct a programming study after the soccer class to help them gain an opportunity to demonstrate wider abilities even for professional soccer players who are in a narrow gate.
"We want to show children the significance of working and a future where they can choose their work freely," said Koichiro Kondo, President and CEO of JRCS. As the mission of JRCS is to "Never stop the flow of sea cargo", it is the hope that more young people will be engaged in shipping and shipbuilding work.
Also, in order to promote one of our action guidelines, "Let's raise Team Harmony," JRCS values listening to peers and conducts activities to spread this concept to society. During the "AFRICA DREAM SOCCER TOUR", we would like the coaches and teammates to hear each other's stories, and to understand the wonder of achieving results as a whole.
An award ceremony was held in late May at a soccer school in Uganda. The plan is to present the toy character "Kikuho", created by JRCS which symbolizes the concept of listening to the children who demonstrate "the ability to listen". The winner was a girl named Jane. Not only did she listen to the coach's instructions seriously, she also approached everyone with a fair attitude, and was evaluated for her diligence in cleaning and picking up trash. Jane did of course, but didn't all the children realize that "listening" is a socially acclaimed ability?
The tour of 2019 has come to a halfway point. Based on the idea of football classes, we will continue to support activities in the local community, hoping that the dreams of as many children as possible will come to fruition and widen their horizons.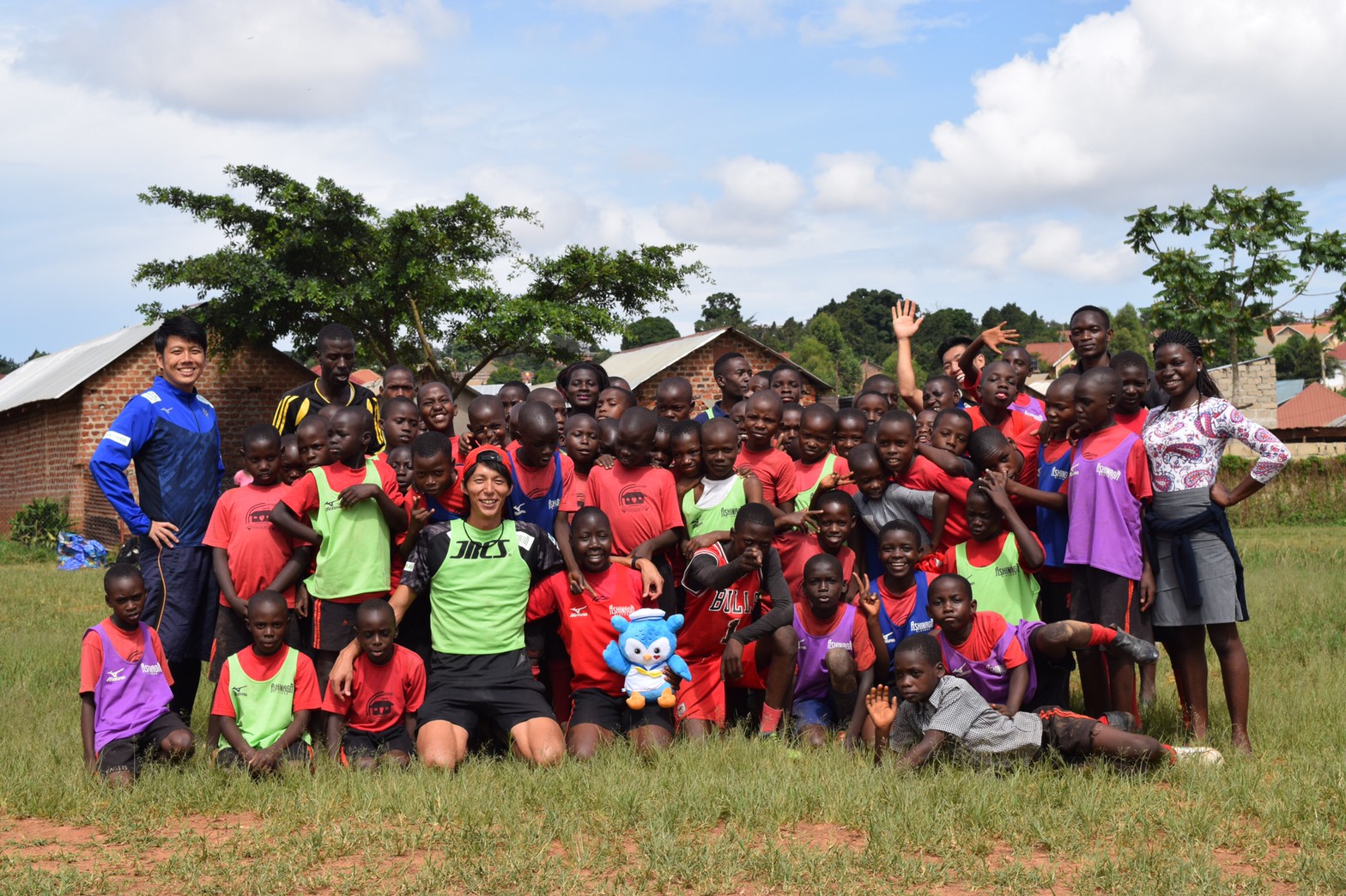 Jane is seen holding her prize "Kikuho" pleased to be praised for her listening ability.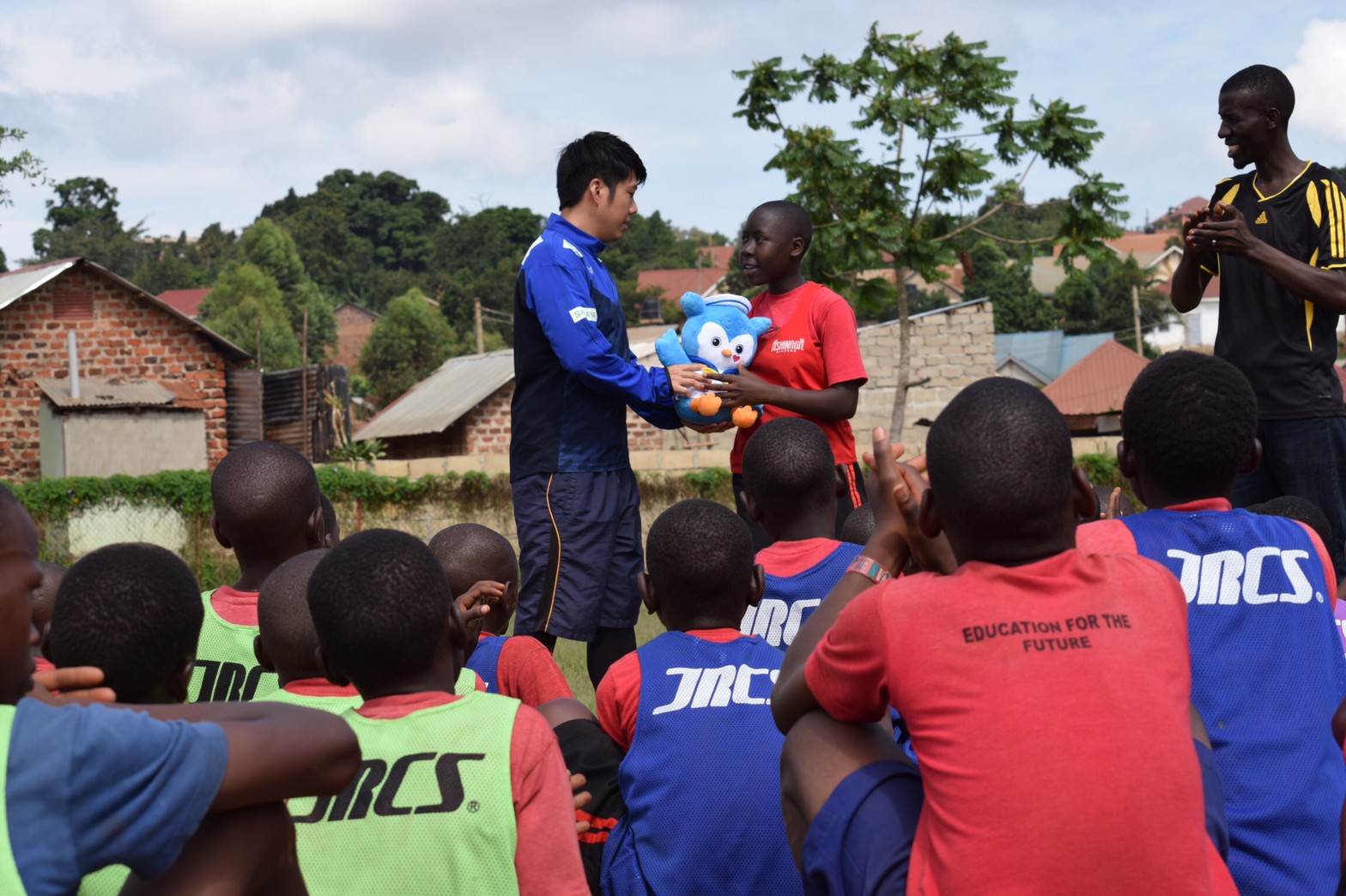 The JRCS logo can be seen on the coach's uniform and the player's bibs.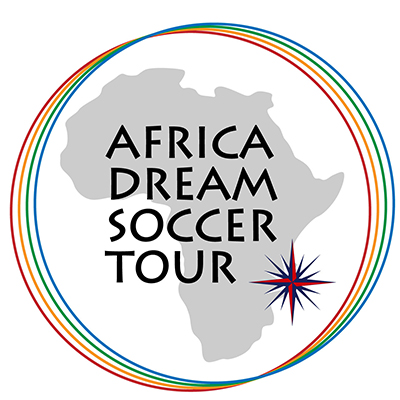 The logo of the AFRICA DREAM SOCCER TOUR