Working on a ship is fun! The "Saruvia Maru" Children's Boarding Tour
As part of our CSR activities, we are supporting the AFRICA DREAM SOCCER TOUR. This social contribution to provide Japanese coaches to give free football training to children living in economically challenged countries in East Africa is led by Keisuke Honda the professional footballer. Organizers hope that while supporting the dream of becoming a footballer, "children will find their own dream in the discovery of many other professions". As well as football classes the project is also about learning programming and visiting companies and factories.
With the Corona pandemic restricting activities in the region, plans of a project are being implemented to support children's dreams here in Japan. One such event which was made possible by Tokai Kisen Co., Ltd. was the inviting of children from the Koyama Children's Home in Tokyo to take part in the "Saruvia Maru Boarding Tour".
The children who took part in the embarkation tour were first taken to the observation deck of the Saruvia Maru, a large passenger ship that links Tokyo with the Izu Islands. Having a panoramic view of the Rainbow Bridge and Tokyo Sky Tree caused great excitement. Being able to touch the actual mooring rope securing the ship to shore brought amazement at how strong it felt. The large array of equipment in the wheelhouse and the view of the sea from the Captain's perspective was very impressive. Continuing the tour of the ship, visiting the cabins, the boiler room, engine room and mess hall, it soon became apparent how many jobs there were onboard.
Voices could be heard saying on the bus ride home that how much fun had been had and how proud they would be to tell their friends all about it. Who knows? Perhaps one of them will become a captain one day. JRCS delights in having been able to help broaden the horizon for these children.
Again, we thank Tokai Kisen Co., Ltd. for their agreement to the project's aims and support in making it a reality.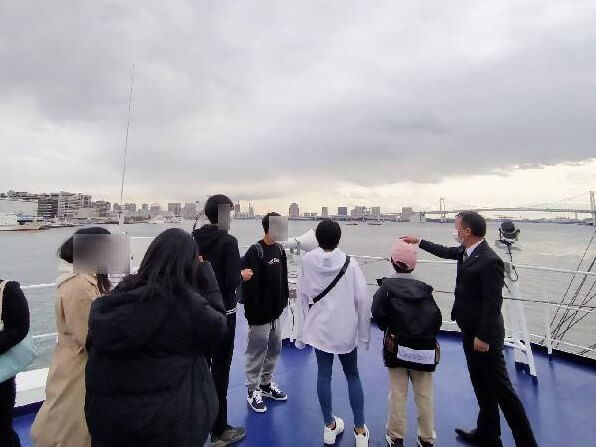 Spectacular views from the observation deck!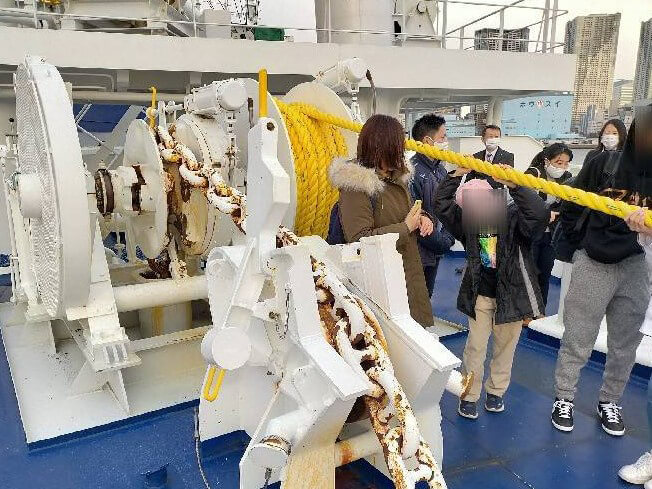 What a great experience, touching the actual rope!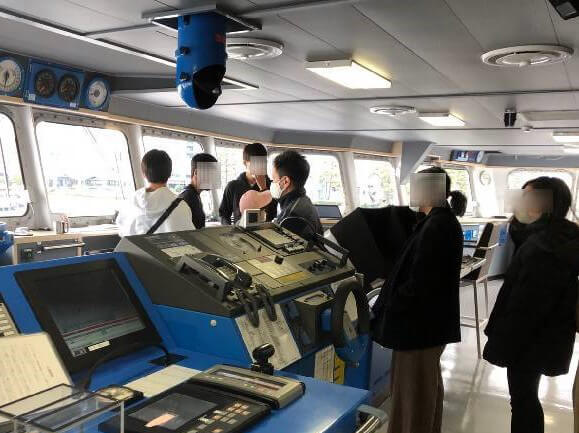 The diversity of professions onboard was a lesson learned.