Completed retrofitting for fishery control vessel "Hakuo Manu"
As the radar on board the fishery control vessel "Hakuo Maru" of the Fisheries Agency had become old, we took advantage of the dock period to carry out a retrofitting.
The current Hakuo Manu, now in its third generation, has been protecting Japan's fishing grounds for over 20 years. Since Japan's Exclusive Economic Zone is known as one of the richest fishing grounds in the world, there are many unauthorized foreign vessels targeting Japanese waters near the border. In particular, the East China Sea, which is under the jurisdiction of the Hakuo Maru, is adjacent to the waters of Japan, China, and South Korea, and must be closely guarded to prevent illegal operations by these fishing vessels in Japanese waters. According to the Fisheries Agency, more than 1,500 instructions and warnings were issued to foreign vessels in the East China Sea in 2020. The Hakuo Maru has an important mission to protect limited fishery resources and promote sustainable fishing.
The newly installed radar emits radio waves from its antenna and captures reflected waves from other ships, land, buoys, and other landmarks in the sea, thereby accurately measuring the distance and direction to each landmark. It is required to be installed on large ships as it is essential for safe ship operation.
In addition, radar is essential for fishery control vessels like the Hakuo Maru to perform their duties. This is because fishing vessels fish at different times of the day, and illegal operations often take place at night, requiring round-the-clock monitoring. If the radar, which enables us to monitor the surroundings in the dark, were to malfunction, it could seriously impede the ability to carry out fishery control operations.
The radar newly installed on the Hakuo Manu is a new model manufactured by Japan Radio. We are very pleased that the retrofitting work has been completed successfully and that we have been able to help ensure the safety and security of the crew as well as the reliable execution of their duties.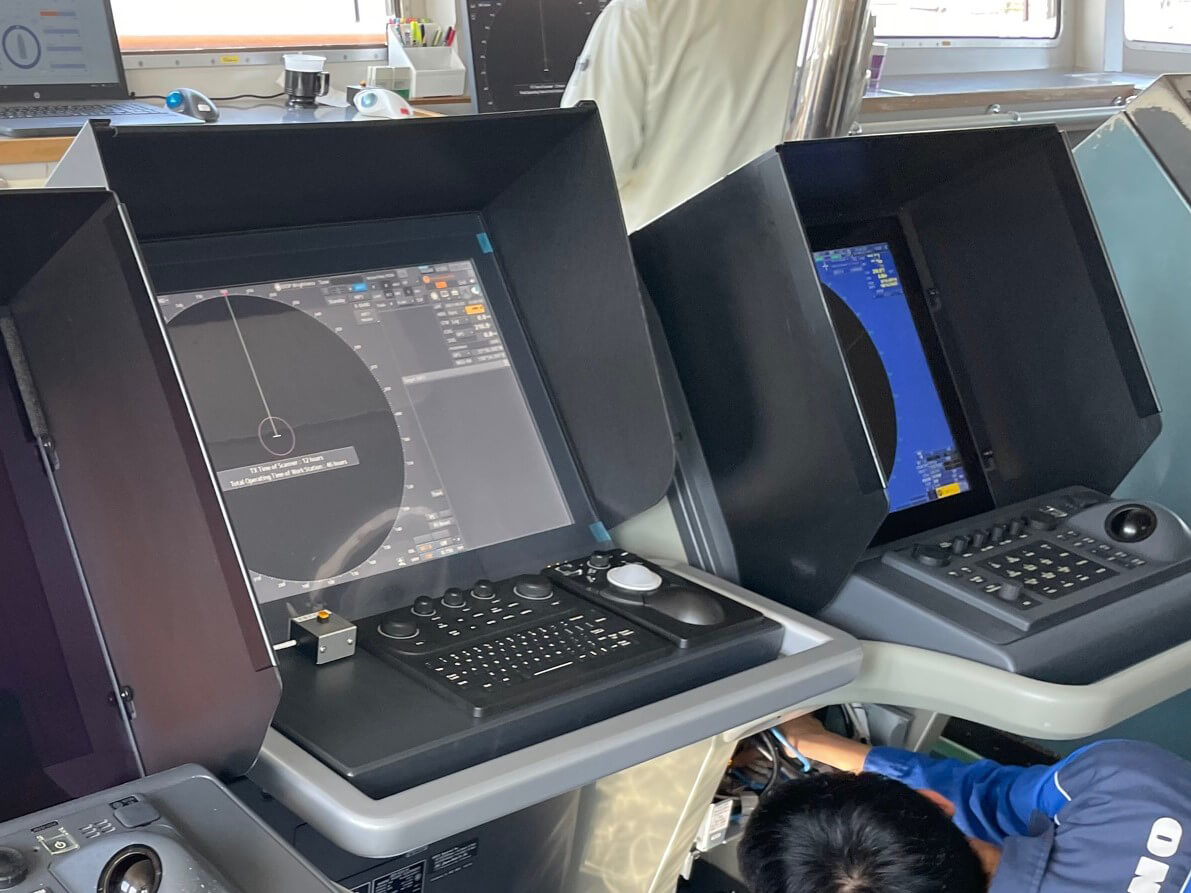 Both radar units have been retrofitted. JRCS was in charge of the radar on the left.