With the easing of restrictions with regard to secondary employment, Diversity Management is to give financial support, in the form of a payment of a lump sum of money, to employees to encourage the creation of jobs on the side. The growth of employees together with raising their skills is the objective here.
JRCS Co., Ltd. (Shimonoseki city, Yamaguchi prefecture, President: Koichiro Kondo) lifted the ban on secondary employment (jobs on the side) for all employees on November 1, 2017.
With the permission of the company, secondary employment outside of company time will be recognized. Should assistance be required and in order to boost the challenge, employee's can receive a lump sum of 50,000 yen each.
JRCS began life with the maintenance of wireless equipment in 1948, soon we will be celebrating our 70th anniversary in 2018.
We are making full use of our know-how, equipment and human resources that we have cultivated since our foundation, and are shifting from marine specialized manufacturers to solution companies that are active on a global stage.
In order to strongly promote that shift, we have set up "diversity management" as our medium-term management goal, accepting all kinds of diversity, and working on creating a corporate culture that creates free ideas.
The lifting of the ban on secondary employment (jobs on the side) is also part of that. President Kondo's hope is that employees will want to learn the social mechanism and by experience the feeling of speed by different industries.
 
●Some examples of secondary employment
  ・Starting a business
  ・Working at another company
  ・Crowd sourcing
  ・Instructor, coach
  ・The Establishment and subscription of NPO corporations
  ・Volunteer work etc.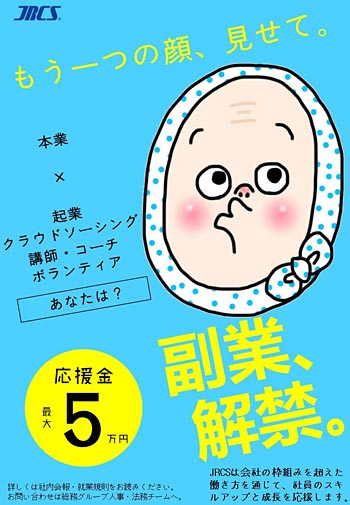 For all enquiries please contact
JRCS Corporation Corporate Planning Office Public Relations Team