Exhibition Notice of "The 2nd [Next Generation] Thermal Power Generation EXPO" A Proposal of Plant Diagnostic Apparatus Utilizing AI
JRCS MFG Co.,Ltd. (Shimonoseki City, Yamaguchi Prefecture, President and CEO: Koichiro Kondo) will have an exhibition from February 28 (Wednesday) – March 2 (Friday) at the Tokyo International Exhibition Center (Tokyo Big Sight). In a booth for industrial machinery at the exhibition, Yamaguchi Prefecture Piezoelectric Device Research Institute of the 2nd [next generation] thermal power generation EXPO will exhibit an electronic listening device (patent pending).
Daily inspections of factory machinery and equipment are generally conducted by monitoring images, vibration, temperature and pressure.
On the other hand, "sound" emitted by a machine is different to the sound that people utilize therefore it has been in the past considered difficult to use as an objective medium.
The electronic listening device developed by our company is a tool for visualizing and displaying, recording, reproducing and analyzing the sound emitted by a machine by connecting the device to an information terminal such as a tablet or smartphone.
By introducing this device to daily inspection of industrial machinery, it would be possible to monitor and diagnose objective information rather than relying on the value of the experience and subjectivity of individual operators making early detection of abnormal conditions possible.
At the exhibition, a model of the machine will demonstrate picking up the required sound at pinpoint without being influenced by the surrounding environment.
In addition, a demonstration version of software that analyzes the collected sound will also be on display, proposed as a plant diagnostic device using AI.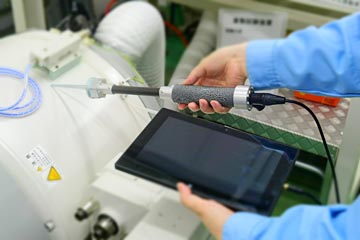 With regard to the "2nd [Next generation] thermal power generation EXPO"
This will be a comprehensive exhibition of the next generation thermal power generation system attracting attention for the realization of a low-carbon society.
http://www.thermal-power.jp/en/Home/
Dates: Wednesday, February 28, 2018 – Friday, March 2,
Venue: Tokyo Big Sight (3-11-1 Ariake, Koto-ku, Tokyo)
Exhibition stand (Yamaguchi Prefecture Piezoelectric Device Research Institute): East 7 Hall Booth Number E 54-28
For all enquiries please contact
JRCS Corporation Corporate Planning Office Public Relations Team