The Transformation of Japan's Shipping and Marine Industries Hankyu Ferry and JRCS A cooperation in promoting a digital transformation of the shipping and marine industries
Hankyu Ferry Co., Ltd. (Kitakyushu City, Fukuoka Prefecture, President Akira Ogasawara) and JRCS Co. Ltd. (Shimonoseki City, Yamaguchi Prefecture, President Koichiro Kondo) have established a new business through a digital transformation of the shipping and marine industries in Japan. Co-creation of new solutions to further improve the safe operation of vessels, improve the efficiency of operations, and reform the working style of mariners. Utilizing the latest digital technologies to enhance the passenger service customer experience.
Domestic shipping is the core transportation infrastructure that supports Japan's lifestyle and economic activities, accounting for about 40% of the total domestic cargo transportation and about 80% of the transportation of basic industrial goods such as oil, coal and cement. Transportation by coastal shipping has an excellent economical and efficient characteristic. In addition, the amount of CO2 emitted when carrying cargo of the same weight is less than 1/6 of trucks, making it an environmentally friendly means of transportation. The further promotion of shipping as a modal shift is urgently needed.
However, the actual situation that coastal shipping is now in shows that 50% of mariners are 50 years of age or older, and there are issues of aging mariners and securing and fostering young mariners.
Statistical source:
Ministry of Land, Infrastructure, Transport and Tourism Maritime Bureau June 28, 1980 The current situation surrounding coastal shipping and efforts to date
https://www.mlit.go.jp/common/001296360.pdf
In order to solve these issues, Hankyu Ferry and JRCS have pledged to accelerate the digital transformation of vessels, transforming the profession of the coastal mariner and enhancing the image of the coastal shipping industry. In addition, there is the development to demonstrate new solutions with a view to realizing an autonomous industry.
Solution Overview
Hankyu Ferry and JRCS will work together to commercialize the following new solutions.
Hankyu Ferry will provide a demonstration field (vessel), verify each solution, and provide knowledge and know-how on vessel operation management. JRCS will develop and demonstrate each solution and release new solutions.
1.Promote the reform of the work style of mariners using cutting-edge devices
Regular maintenance/troubleshooting to improve work efficiency and respond to unexpected breakdowns.
Utilizing cutting-edge devices such as tablets and the latest MR for troubleshooting, the crew's burden will be lightened and work time significantly reduced. The operation of troubleshooting will begin in February 2020, and the functions of regular maintenance and remote assist will be expanded after that to promote the work style reform of mariners.
2. The development of a navigation support system for autonomous vessels
The Ministry of Land, Infrastructure, Transport and Tourism proposals, we will begin verification of an operation support system in anticipation of the practical use of autonomous vessels in 2025. During navigation, it is necessary to recognize obstacles and fishing boats and other objects that cannot be recognized by navigational instruments.
To this end, in January 2020, we will start application development and demonstration experiments of a situation recognition system and will develop an operation support system that can easily make operational decisions and verify automatic operation algorithms.
3. The investigation of a connected vessel and integrated system onboard
This visualizes the performance information of the equipment onboard and monitors the condition of the equipment and implements preventive maintenance. In addition, by integrating information of onboard equipment and information on weather and sea conditions, contributes to an energy saving operation and a reduction of environmental impact.
In addition, a large amount of equipment is installed onboard, making this a heavy burden for mariners to check necessary information from various devices. To solve these issues, we will build a system that integrates the equipment onboard the ship, reducing the burden on mariners and improving labor productivity.
Data is collected from the ship by ship-to-land communication * using the data transmission method developed in July 2019.
Based on this data, from April 2020, we will begin developing a predictive maintenance model for equipment failures utilizing artificial intelligence (AI), and will continue to develop applications that constantly monitor conditions while monitoring and carrying out preventive maintenance on land.
* Data transmission method that automatically determines the amount of data according to the communication status and transmits data appropriately
Hankyu Ferry Co., Ltd .:
The Hankyu Ferry is a company connecting Kobe/Uozaki to Kitakyushu/Kokura opened in August 1968 and is Japan's first long distance large car ferry route.
Following that the Izumiotsu route was opened, and the Kobe route to Rokko Island, Kitakyushu to Shinmoji Port, currently, they are operating one voyage each day.
Celebrating the 50th anniversary of service in 2018, the vessel's interior has evolved over the years and has become a comfortable cruise for customers.
Also, based on the recognition that environmental issues are important and common to all humankind the company continues to work to contribute to society.
In March and June 2020 respectively, two new vessels will be launched for the Shinmoji-Kobe Rokko Island for the first time in 24 years.
We will continue to aim for further seagoing hotels as a pioneer of long-distance ferries.
https://www.han9f.co.jp/en/
JRCS Co. Ltd.:
We, at JRCS, continue to grow as a company deeply involved in the ocean, constantly creating markets, accurately grasping customer needs and problems, and proactively proposing the best solutions for customers.
In an ever-changing era, by demonstrating their best performance through diverse work styles, employees using free ideas and cutting-edge digital technology will create a link to maritime logistics. Our mission here at JRCS is to make our customers smile while providing stable support at the base.
We, at JRCS, while feeling the changing times will continue to transform ourselves to make our employees smile and provide a smile for everyone involved in the marine industry.
https://www.jrcs.co.jp/en/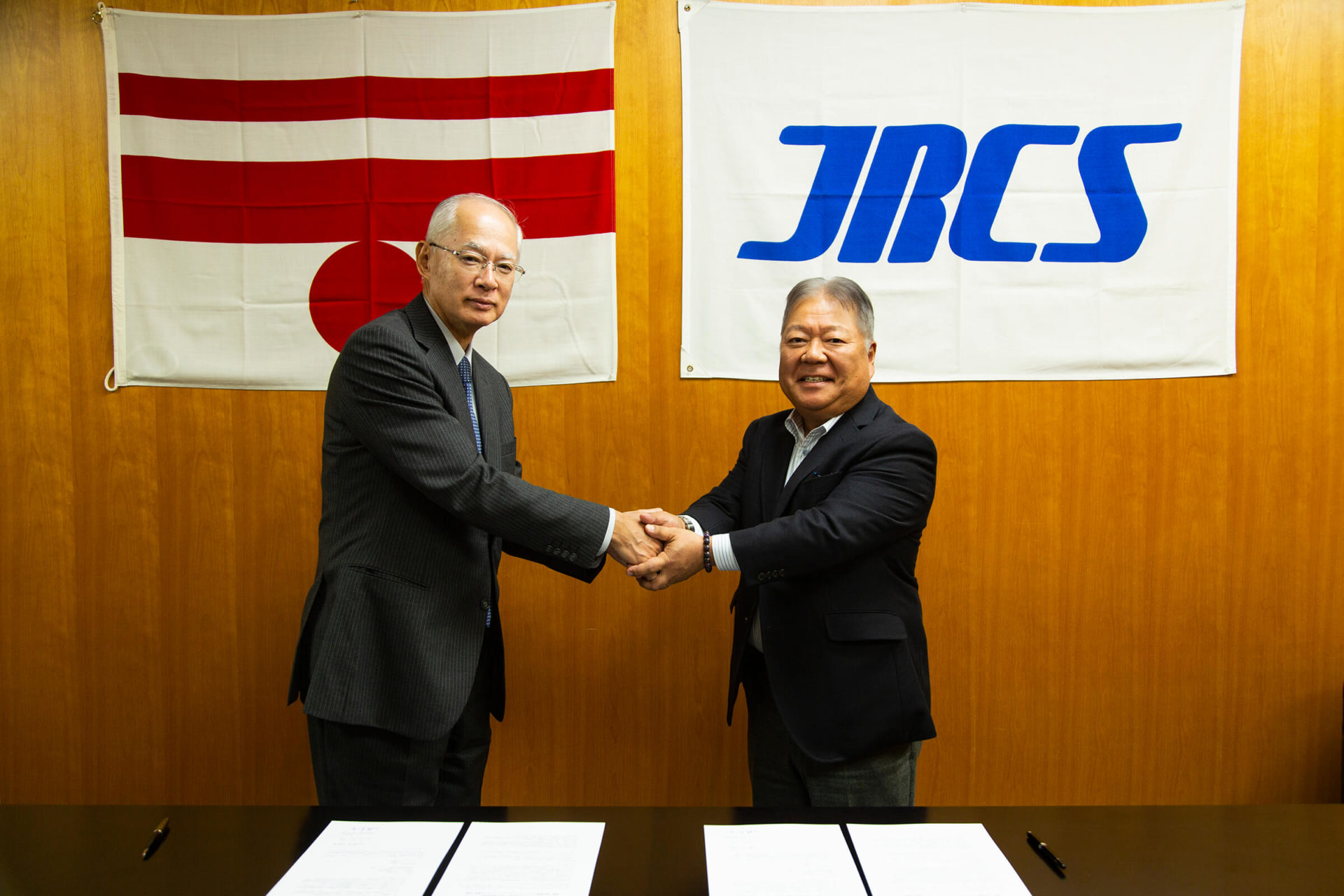 Press inquiries are to be made to;
Hankyu Ferry Co., Ltd. Marine Department Yamaguchi / Nishioka
TEL: 093-481-6781
Email:tyamaguchi@han9f.co.jp/tnishioka@han9f.co.jp
JRCS Co. Ltd. Digital Innovation LAB Masuda Masayuki
TEL: 083-261-0212
Email: masuda_m@jrcs.co.jp
For all enquiries please contact
JRCS Corporation Corporate Planning Office Public Relations Team