Renewed to an "Attractive Office" promoting the reform of the Marine Industry's way of working.
The concept is the "Fusion of Team Work + Living Work!"
 JRCS Co., Ltd. (1-2-14 Higashiyamato-machi, Shimonoseki City, Yamaguchi Prefecture, President: Shoichiro Kondo) recently renewed the office of the Tokyo headquarters.
 The new office is a concept of the "Fusion of Team Work + Living Work!". The office area has been divided into three zones, the "Team Work Area", the "Living Work Area" where you can work at your own pace, and the "Refresh Area" where time can be taken to catch your breath and relax. Each employee can choose the area in which to efficiently carry out business according to the needs at that particular time of day.
 One way of promoting work in the Marine Industry is by the attractive design of our office where customers can get a feel of our efforts as we lead them through to our conference area.
 Please come and visit our renewed office where our ideas have been wrapped.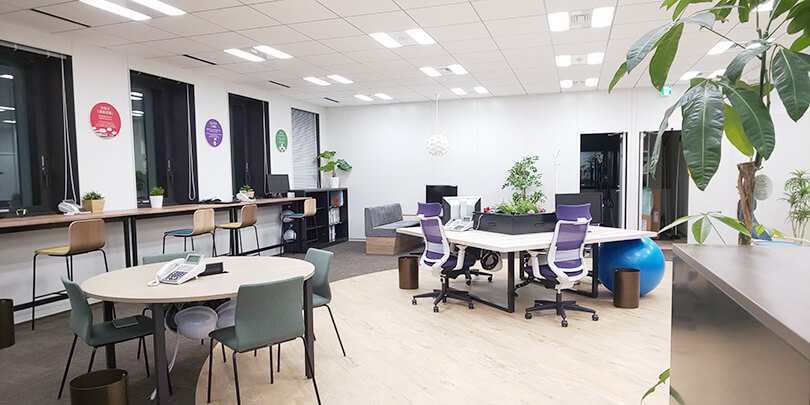 ■Team Work Area
A large circular table is ideal for team work. Allowing you to expand the work face to face.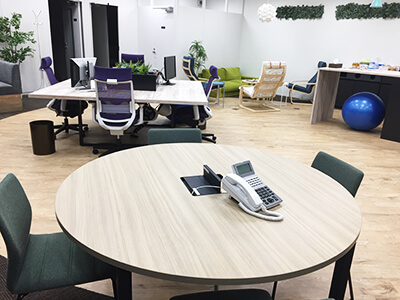 ■Living Work Area Working at my pace
The "Living Work Area" where work can be done at your own pace.
Highchairs in front of the window give a brightness to employees in the sales department before they leave for business and also on their return. The wide sofa is also popular. As a monitor is installed short meetings are possible.

■"Catch your breath" at the Refresh Area
To increase operational efficiency, it is important to take a break and relax. Instead of having the break area hidden out of sight we have placed it in the open with a counter where customers can also have coffee in a healthy and dignified environment.

■On site showroom
Adjacent to the office is our showroom for "Nordic Sleep" which is the Nordic Sleep Japan company bedding brand. "Nordic Sleep" is part of our Lifestyle Business, proposing the "Hygge Style" found in Denmark.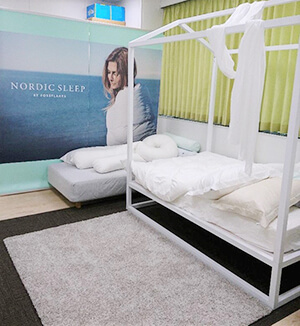 For all enquiries please contact
JRCS Corporation Corporate Planning Office Public Relations Team