JRCS and Microsoft Japan Partner on Digital Transformation in Merchant Shipping and Marine Industries
JRCS Mfg. Co., Ltd.
Microsoft Japan Co., Ltd.
Launch of JRCS Digital Innovation Lab Project to Leverage Mixed Reality and AI to Train Human Resources, Improve Navigation Safety, and Contribute to Ship Self-Navigation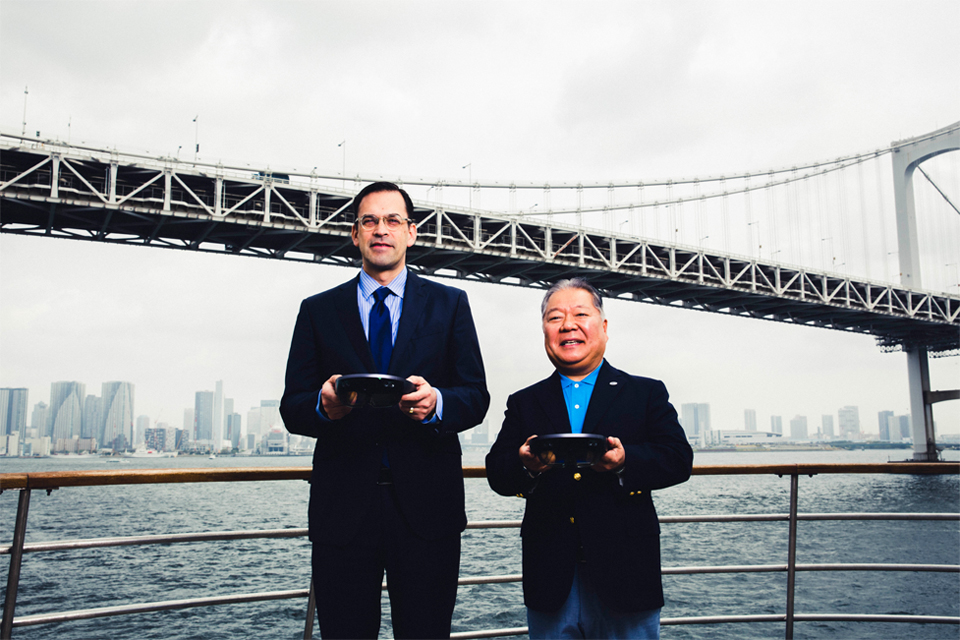 JRCS Mfg. Co., Ltd. (head office: Shimonoseki, Yamaguchi Prefecture; Managing Director: Koichiro Kondo) will work with Microsoft Japan Co., Ltd. (head office: Minato-ku, Tokyo; President: Takuya Hirano) to draw up a roadmap for the future of the merchant shipping and marine industries and launch JRCS Digital Innovation LAB, a project for leveraging mixed reality (MR), artificial intelligence (AI) and other cutting-edge technologies to promote workstyle innovation in the the merchant shipping and marine industries through digital transformation. By partnering with Microsoft Japan, JRCS aims to formulate and implement a vision for the future of global shipping and marine industries by accelerating the development of a remote training platform and other world-class digital products and services that comply with the STCW Convention*.
* STCW Convention: The International Convention on Standards of Training, Certification and Watchkeeping for Seafarers, an international convention adopted in 1978 to promote the safe keeping of shipping environment and keep the oceans clean
As an island nation, Japan depends on marine transport for 99.7% of its overseas trade, which means that merchant shipping is a vital lifeline underpinning the economy of Japan and the everyday life of its people. However, Japan's merchant shipping and marine industries face a chronic shortage of seafarers and aging of its seafarer population. For this reason, JRCS, whose marine power distribution and control systems are used in over 7,000 vessels throughout the world, will endeavor to lead efforts to address the shortage of human resources and tackle the issue of regulation-based industry protection by partnering with Microsoft Japan to promote workstyle innovation in the merchant shipping and marine industries through digital transformation. In collaboration with Microsoft Japan, JRCS will conduct tests aimed at practical implementation of systems that utilize Microsoft technologies such as its HoloLens MR headset and the AI services offered on its Microsoft Azure cloud platform to provide marine industry companies with remote training and remote maintenance solutions, and will also work on establishing a new digital platform to enable self-navigating vessels. JRCS established a Digital Innovation Promotion Office on April 1, 2018, to implement this project.

HoloLens, which Microsoft Japan has made available to businesses and developers in Japan from January 2017, is a new device that delivers MR, which combines real and virtual worlds to utilize the best of both worlds by overlaying holograms (3-D virtual objects) on the real world in front of the viewer's eyes. Unlike virtual reality (VR) devices, MR devices like HoloLens enable the user to view and manipulate holograms within a visible, real-world context. Because such devices combined with audio and video would enable online conferencing between geographically separated employees while sharing the same mixed reality world, JRCS realized that HoloLens could be used to resolve or mitigate a wide range of merchant shipping and marine industry issues. The company accordingly joined the global HoloLens development program operated by Microsoft Corporation (head office: Redmond, Washington, USA), and has used the Digital Advisory Services offered by Microsoft and Microsoft Japan to develop its concept models.
Overview of JRCS's concept models using Mixed Reality and AI

JRCS is using HoloLens and AI technologies to develop the following three concept models, and is considering various ways of using these models with the aim of deploying them in actual operations moving forward.
1. INFINITY Training, a remote training system for marine industry companies
JRCS will provide a system that makes use of mixed reality and AI to effectively train merchant shipping and marine industry personnel including seafarers and land-based supervisors. JRCS has up to now been providing specialized training for seafarers at its Shimonoseki headquarters' training center, but the location made it difficult particularly for overseas customers to participate in training programs. Infinity Training will enable seafarers throughout the world to participate in training in equipment and systems operation at any time irrespective of their location or native language through the sharing of MR spaces, fusion of control systems and other actual products with digital content, and utilization of Microsoft Translator translation functions. The service will become available from March 2019.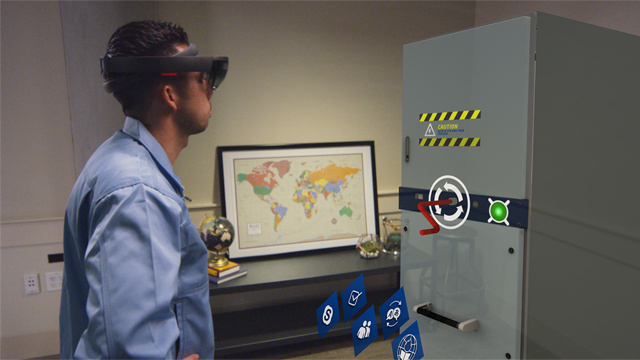 2. INFINITY Assist, a remote maintenance solution for marine industry companies
To aid the safe navigation of ships, its top priority, JRCS will enable the speedy dissemination of the skills of engineers with rich experience of the special demands of shipping vessels by developing and providing solutions that make use of MR, IoT, AI and other technologies to lighten seafarer workloads and risks of injury and human error. By donning HoloLens headsets when carrying out maintenance on vessels, engineers will be able to take advantage of maintenance procedures displayed over the equipment that they are maintaining, enabling safer and speedier maintenance work. JRCS plans to commercialize a maintenance application for its high voltage switchboards by the end of 2019, and will add further contents from 2020 onward.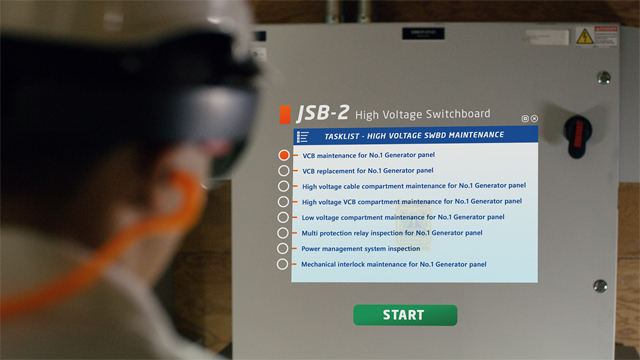 3. INFINITY Command, a solution for land-based control of ships directed at the eventual introduction of self-navigating vessels
JRCS has set itself the goal of advocating for and driving the introduction of self-navigating vessels in the merchant shipping and marine industries. It will work with Microsoft Japan to examine the potential for leveraging technologies such as IoT and AI together with big data to enable "digital captains" to undertake the duties of ship captains in the near future to control multiple vessels from land. Digital captains will use HoloLens to share 3D charts with other digital captains in remote locations and check sea routes, weather, submarine topography and other information while also leveraging AI so as to ensure ship safety and enable accurate and efficient maritime transport. JRCS will drive this project forward with the aim of launching a full INFINITY Command service in 2030.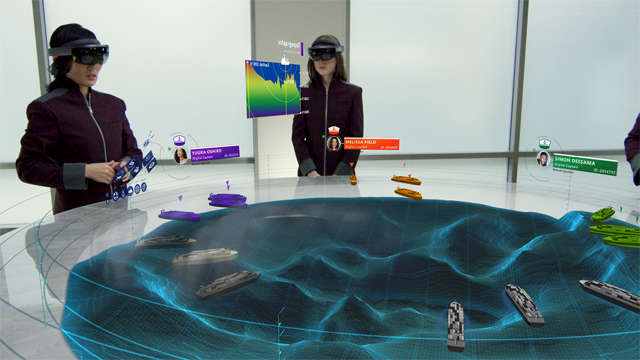 Visit the website below for details of JRCS Digital Innovation LAB Project:
https://www.jrcs.co.jp/business/innovation/
Visit the following website to view videos introducing these concepts:
– Concept: https://youtu.be/9wr-KVyqEHs
– Interviews: https://youtu.be/wfn9YxcJrfE
In collaboration with Microsoft Japan, JRCS will drive workstyle innovation in the merchant shipping and marine industries, and develop a wide range of products and services that leverage the sharing of time and space, remote training, remote communication and other paradigms. JRCS has adopted "Improving the global quality of life with innovative digital technology" as a mission to provide happiness to customers who are involved in the ocean industry and their corresponding consumers to achieve more.
Microsoft Japan will continue to support the growth of JRCS's business and the merchant shipping and marine industries from the technical side, with its Digital Advisory Services performing a core role in formulating specific visions for the digital transformation of customer businesses.
JRCS Mfg. Co., Ltd.
Since its inception in 1948, JRCS has been deeply involved in marine industries, and supported by its customers, has steadily continued to grow. JRCS has set itself the mission of making its customers happy through workstyle diversification that enables its employees to give their best and work behind the scenes to support maritime transport. JRCS will continue to transform itself in tune with the changing needs of its customers.
Microsoft Japan Co., Ltd.
Microsoft Japan Co., Ltd. is Microsoft Corporation's Japanese subsidiary. Microsoft is a leading productivity and platform company for the mobile-first and cloud-first world whose mission is to "empower every person and every organization on the planet to achieve more." Based on this corporate mission, Microsoft Japan aims to become a company that contributes to societal change in Japan through innovative and trustworthy intelligent technology.
Microsoft HoloLens
Powered by Windows 10, this is a first-ever self-contained holographic computer that can be used wirelessly without the need to connect external devices such as mobile phones and personal computers. HoloLens provides new means of deploying holograms in real-world physical environments to view the resulting mixed reality and manipulate digital contents within that world. Visit the website below for details:
https://www.microsoft.com/en-us/hololens                   
Microsoft Japan Digital Advisory Services:
https://enterprise.microsoft.com/en-us/trends/digital-advisory-services/
* Microsoft, Windows, HoloLens, and Azure are trademarks or registered trademarks of Microsoft Corporation in USA and other countries.
* The official name of Windows is "Microsoft Windows Operating System".
* Other company and product names are trademarks or registered trademarks of their respective owners.
Press contacts
JRCS Mfg. Co., Ltd Digital Innovation Promotion Office (Masuda)
Tel: 083-261-0210 (section switchboard) Email: jrcs_digital@jrcs.co.jp
Microsoft Japan Co., Ltd. Corporate Communications Group (Kanazawa)
Tel: 03-4535-8055 (section switchboard) Email: mskkpr@microsoft.com
For all enquiries please contact
JRCS Corporation Corporate Planning Office Public Relations Team